| | | |
| --- | --- | --- |
| News and updates from The Woodstock Academy |   | July 2019 |
Dear Woodstock Academy Community:
Our June commencement ceremony launched the class of 2019 beyond The Woodstock Academy and into the world. Since then we have been preparing to welcome the newest group of Centaurs – the class of 2023!
This summer, progress is continuing in the SPIROL STEAM Center, a new science lab is taking shape, a new collaboration space for students is being designed in the library, and unused lockers are being removed to make way for wider and more welcoming hallways. Campus tours during Homecoming Weekend are a great time to see how the campus has changed while The Woodstock Academy continues many beloved traditions. We hope you can join us!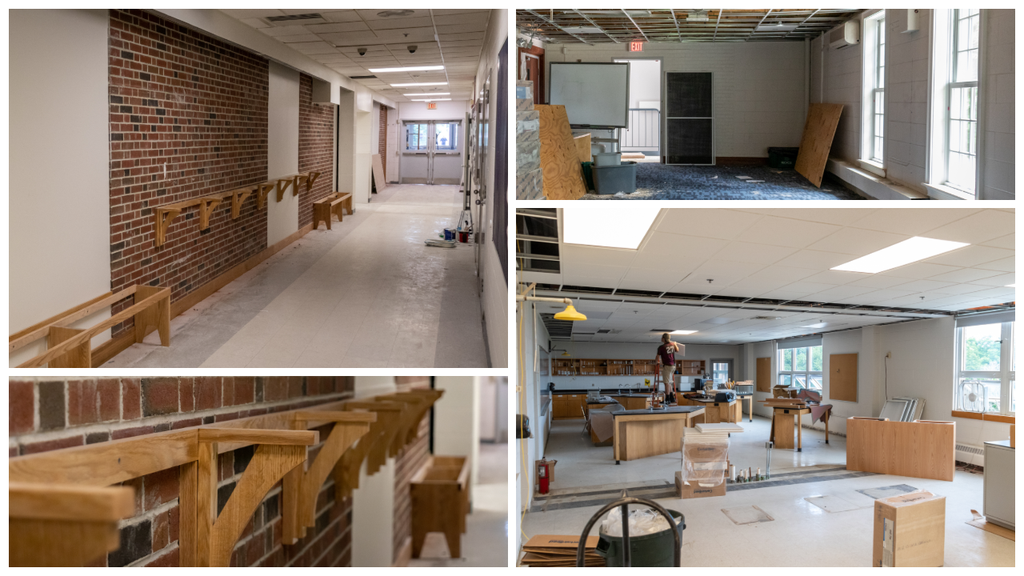 Class of 2019 Commencement

As the bell in the Academy Building spire rang, nearly 300 students, led by the Manchester Pipe Band and the Governor's Foot Guard, marched to the common for their final event as students of the class of 2019. The traditional ceremony remains a meaningful event for students, their families, and the wider Woodstock Academy community. 

Social studies teacher Greg Smith was selected seniors as their Class Night and Baccalaureate Speaker.

Alumni Creatives

For this year's Alumni Art Show we are looking for designers, advertisers, marketers, architects, communications professionals – the problem-solvers, entrepreneurs, and thinkers who are making our world a more exciting place!

We are looking for digital art, advertising, graphic design, animation, video, architecture, publications, product design, and more created by WA alumni, to be the focus of our Alumni Creatives Exhibit during Homecoming Weekend in The Gallery in the Loos Center for the Arts.

Submit your work before August 31st.

 

Homecoming 2019
October 4 & 5

Join us for Homecoming 2019 and connect with your fellow Centaurs! The weekend is full of events!

Alumni & Friends Shindig
6 p.m. Friday, October 4
The Red Barn, 749 Route 169, Woodstock, CT
Connect with alumni and friends for a casual evening in a classic Woodstock barn. $10 per person. 

Alumni Banquet & Class of 1969 50th Reunion
6 p.m. Saturday, October 5
Atrium in the Loos Center for the Arts
All alumni are invited to join us for the Alumni Banquet and the class of '69 will celebrate their 50th reunion! $45 per person.
Staff Member of the Year

Congratulations to Traci Nelson '86, administrative assistant and The Woodstock Academy's 2019-2020 Staff Member of the Year! Traci is known for her helpful, positive, and professional demeanor in the Main Office on North Campus. As one of the first people guests meet as they call The Woodstock Academy or arrive on campus Traci continues to represent her alma mater with pride.

Teacher of the Year

Congratulations to science teacher Melany Grosnki, The Woodstock Academy's 2019-2020 Teacher of the Year! Whether she is helping students develop a love for chemistry, coordinating an afterschool activity, or teaching students scientific procedures for solving crimes in forensics class, Melany's enthusiasm is contagious!

OneDigital Centaur Classic

Player spots are full but there are still opportunities to become a sponsor! The OneDigitial Centaur Classic Golf Tournament directly benefits athletics at The Woodstock Academy! 

Sign up to be a sponsor on our tournament page.